News Archive
Randolph's Society of Physics Students Chapter Wins National Award
Chapter named Outstanding Chapter and advisor received honorable mention award for 2007-08.
2/9/2009 3:25:33 PM
LYNCHBURG — Randolph College's Society of Physics Students has been named an Outstanding Chapter by the national organization for 2007-08. Peter Sheldon, physics professor and advisor of Randolph's chapter, also received honorable mention for Outstanding Chapter Advisor.
The national organization announced the awards last week. Randolph is one of about 58 chapters recognized from the about 700 members of the national Society of Physics Students (SPS). Randolph's SPS chapter also won the national award in 2004-05 and 2005-06.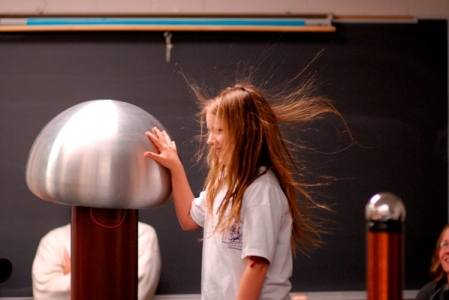 "The selection is based on the depth and breadth of SPS activities conducted by your chapter in such areas as physics research, public science outreach, physics tutoring programs, hosting and representation at physics meetings and events, and providing social interaction for chapter members," wrote Gary White, director of the SPS, in a letter to the college.
Randolph's chapter was recognized for numerous activities during the 2007-08 year, including the human-sized Hamster Wheel designed and created by students and the chapter's annual Science Day program for area children.
"I am really proud of our students," Sheldon said. "We don't just have physics students involved. We have a mix of students from all sorts of majors who are committed to enhancing science education. That is just one of the things that make this experience so great for our students — and so successful. We have a lot of fun together, and each year we try new activities that are open to the college and the local community."
This year, Randolph's chapter will not only offer its popular Science Day to area children in grades third through sixth on April 4, but is planning a new Science Festival on April 4-5 that is open to all ages but geared for grades seven through adult. The chapter will also host an SPS physics conference on campus this year.
More information on these events can be found here: http://physics.randolphcollege.edu/sps/




CONTACT: Brenda Edson, Director of College Relations
434-947-8142